International kitchen
Vegetarian & Vegan
Plate service restaurant
Don't feel like cooking yourself?
No Problem! Fancy a bite to eat? Holiday Park de Molenhoek offers a wide range of restaurants. At the Brasserie you can dine extensively à la carte and enjoy an international street food menu. At the cozy and traditional Brasserietje you can enjoy a simple meal or order something to go in the snack bar. Everything is possible!
Enjoy your meal!
The Brasserie
Welcome to restaurant @zeetra. Together with a team of passionate foodies, we do our utmost to make it an unforgettable time together with you and to introduce you to our passion for good, healthy but also delicious food. The menu is internationally oriented thanks to Chef Ben, Ben is a travelling chef with a passion for good but above all healthy food. During the winter period, he cooks in kitchens all over the world and learns to cook from the locals en passant. From April to November, he applies the inspiration he has gained to @zeetra's kitchen. Thus, our menu is new and surprising every season. The dishes are best described as different, innovative and surprising.
Curious about our menu? Click here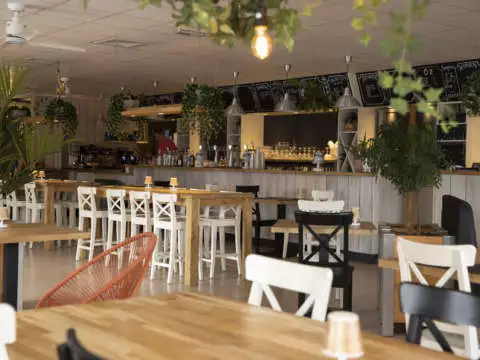 New!
Brasserie
New in 2023 is restaurant 't Brasserietje, delicious relaxed food in a cozy environment. In this self-service restaurant you can enjoy a traditionally baked steak, fresh fries or soft ice cream. What are you craving for tonight?