International kitchen
Vegetarian & Vegan
Plate service restaurant
Don't feel like cooking yourself?
No Problem! Fancy a bite to eat? Holiday Park de Molenhoek offers a wide range of restaurants. At the Brasserie you can dine extensively à la carte and enjoy an international street food menu. At the cozy and traditional Brasserietje you can enjoy a simple meal or order something to go in the snack bar. Everything is possible!
Enjoy your meal!
The Brasserie
The Brasserie is a cozy, green living room with family tables, private tables for two to four people and a number of comfortable sitting areas. The menu is different, innovative and surprising. Dishes that you will not immediately expect at a holiday park. The dishes are flavored with umami and kokumi products such as dashi, cocoa and coffee. Many of the dishes on the menu contain ingredients that are anti-inflammatory or medicinal, such as curcuma, ginger, galangal, sereh, seaweed, sopropo, cinnamon and red fruit. Unknown? Maybe for some. Yummy? Sure! The Brasserie also has an extensive Vegetarian and Vegan menu.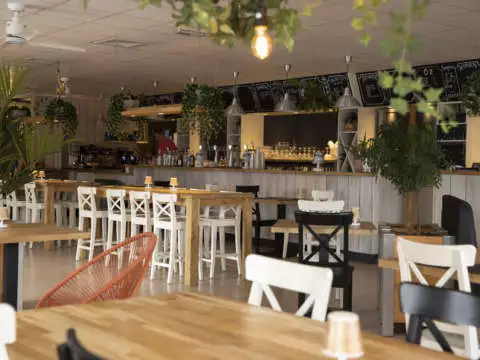 New!
Brasserie
New in 2023 is restaurant 't Brasserietje, delicious relaxed food in a cozy environment. In this self-service restaurant you can enjoy a traditionally baked steak, fresh fries or soft ice cream. What are you craving for tonight?