Heated swimming pool
Infant and toddler pools
Large pool depth: 1.40 m
Want to jump in?
The heated outdoor swimming pools are easily visible so you can keep an eye on things while you relax. The swimming pool consists of three swimming areas; an infant and toddler pool, a swimming pool with water hose and slide, and a pool where you can swim laps or simply drift at your leisure. The swimming pools are open from May 15 until September 15. Depending on the weather forecast, the swimming pool might stay open for longer during the month of September.
Water fun
The most beautiful memories are made together
Delightful camping, not too large, not too small. Perfect swimming pool for children up to around 12 years old. Lots of space and getting a spot is doable. Sper fun animation with truly all-day activities for all ages. Restaurant with terrace is situated in a nice spot with a view of the playground, sports field and swimming pool. All very easily visible.
Jaap on Zoover 16.8.22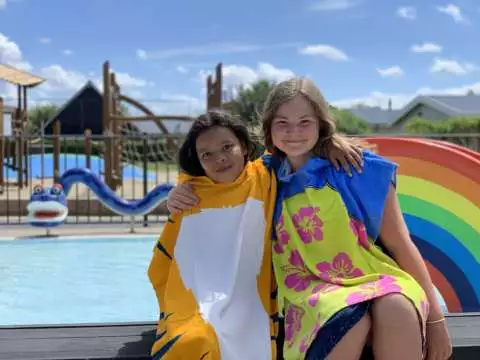 A dolphin or otter?
Are you a dolphin or an otter? Whether you love to drift in the water on your backside while you do nothing, or you like to do all kinds of fun tricks... there's room for everyone at our pool. Until 10:00 am the swimming pool is reserved for those who like to swim laps. Afterwards, anyone can come splash in the pool. During summer, our animation team regularly hosts all kinds of activities in and around the pool.